Welcome to the 1st Edition of the Gatineau / Ottawa Agile Tour!
Agile practices are more popular than ever, driven by the need for businesses to deliver more with less in today's wavering economic environment. At the end of 2011, the Project Management Institute launched a
new PMI-Agile Certified Practitioner (PMI-ACP) program
. On April of this year, Steve Denning wrote in Forbes Magazine that Agile was the
Best-Kept Management Secret on the Planet
. The world is quickly becoming Agile and here's your chance to prove that you are too!
The local Agile Community is proud to finally bring the event to Gatineau / Ottawa for the 1st edition of the Agile Tour in the National Capital Region. A team of dedicated and experienced Agile practitioners are working together and committed in providing a high quality conference for the +200 professionals expected to attend.


Thank you to our Sponsors

Event Details
The full day event will take place on Wednesday November 28th, 2012 at the Gatineau City Hall (Maison du Citoyen) .
The full program will be posted in August.
The event will offer 2 tracks combining 8 high quality talks including the following 2 great keynote speakers:




Sponsorship Opportunities
Partner with the Gatineau / Ottawa Agile Tour Organizing Committee in making this great event a success!
Have a look at our Sponsorship Packages




Call For Speakers!
We are looking for rockstar and captivating speakers for this year's Gatineau / Ottawa Agile Tour. If you are interested in speaking, please send an email to: speaker@GOAgileTour.ca and provide the following information (proposal):
Contact Information
Speaker Bio, Experience, Certifications, Title, ...
Speaking History and Experience (events, # of people, references)
Motivation for Speaking
Why We Should Pick You
250-500 Word Abstract of Talk
Slidedeck (Optional)

In the high likelihood that we receive more proposals than the number of available slots, the organizing committee will pick the speakers based on the following criteria:
Learning potential and appeal of talk for the participants
Practicality and usefulness of information which is relevant and immediately applicable to the workplace
Speaker credibility, experience and notoriety
Seriousness and completeness of proposal
The Conference theme has not been finalized yet. We welcome your ideas.
All interested Speakers must submit their proposal by August 15th



Registrations Are Now Open!
Student: 33$ (Student Card Required)
Early Bird: 40$ (Sept 1st)
Regular: 55$
Thank you also to our Partners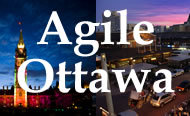 Contact Us!
If you would need more information about this event, don't hesitate to reach us through the following channels: